A Disturbing Video Of A Lady Being Spiritually Bathed In A River Has Sparks Arguments Online
Some people believe that Christmas is associated with a lot of merrymaking. As a result, they will sleep with any attractive lady or wealthy man they come across for the sake of pleasure and money. But the devil could also plant his angels among these ladies or rich men and take innocent lives at the end of this Christmas.
Recently, a distressing video of a woman being spiritually bathed in an unknown river leaked on the internet. This video is generating a lot of arguments as people are contemplating the purpose of the lady being bathed spiritually. Checking the image from the video in this article, you can see that a young girl in her twenties and a man in his middle age are in a river.
The man was chanting in the river as if he is calling on the gods of the river on the lady. some of the words heard are, "Now! Now!!, Now!!". This propelled some social media users to react that she is probably being bathed for the Christmas festivity to take out the souls of innocent men by sleeping with them. So men who sleep with any lady they come across should be careful.
Others believe that it could also be that the man is sacrificing her to the gods of the river for his personal gain. This is because the lady was not showing any moment in the river and what is going on is very scary.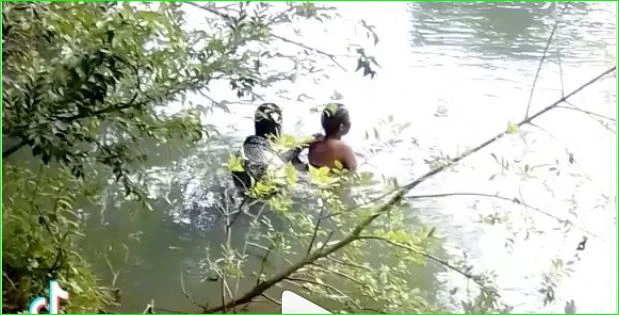 Check out some of the comments from some netizens after watching the video: